The deadline for submissions to the Special Issue of Fluid Phase Equilibria has been extended to December 31st
---
The Organizing Committee of EQUIFASE 2018 wishes to thank all the attendees for having participated in it.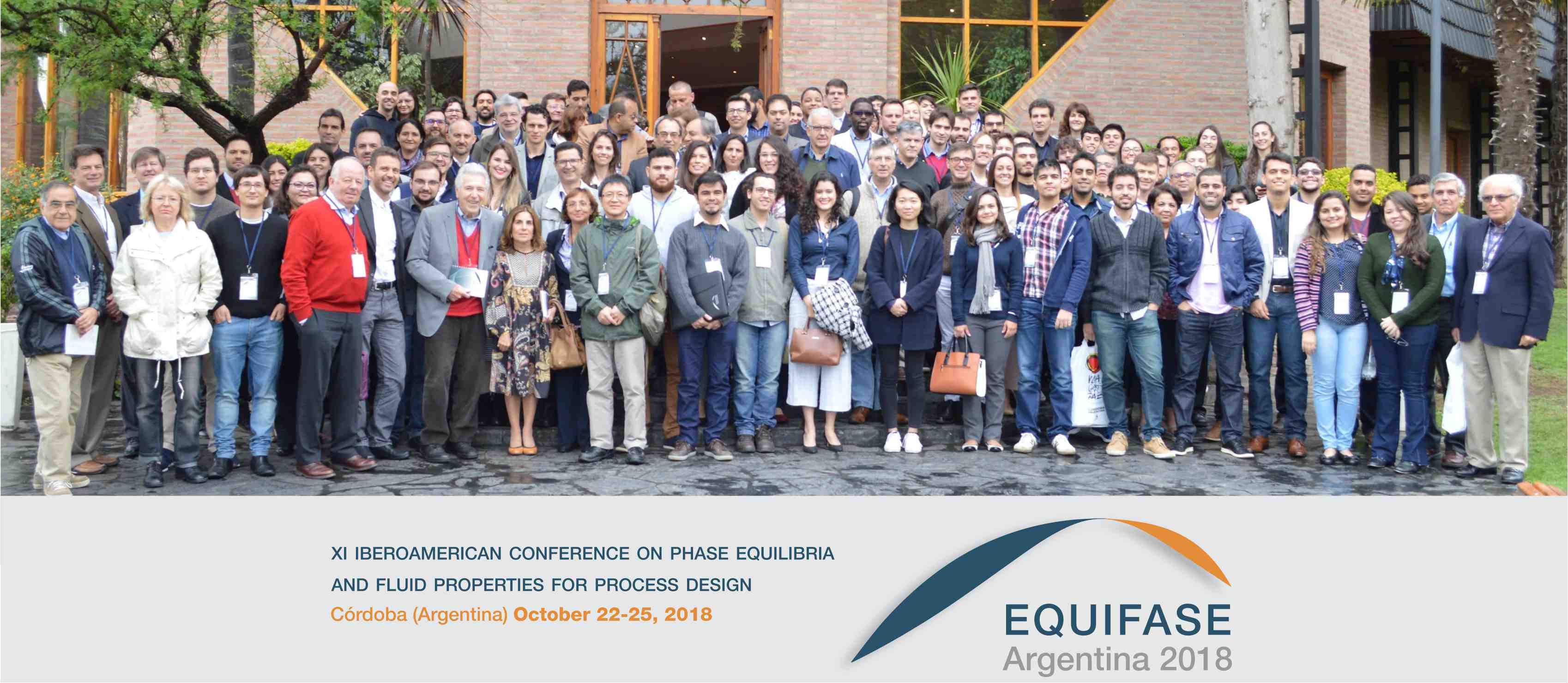 ---
---
LATEST NEWS
---
October 16th
New Invited Speaker
Due to schedule problems Juan de Pablo will not attend EQUIFASE 2018. Walter Chapman is the new Invited Speaker. He will be presenting the talk «Molecular Model of Complex Fluids: Phase Behavior, Microstructure, and Interfacial Behavior».
The Organizing Committee thanks Walter for his help and predisposition.
---
October 9th
Important Information about Transfer from Airport
We will offer three buses that will leave from the Airport to Villa Carlos Paz with the following schedule (departure time indicated):
1. Sunday October 21st at 9:00 PM
2. Monday October 22nd at 4:00 AM
3. Monday October 22nd at 1:30 PM
The bus route will begin in front of the main door of the International Arrivals Floor of the Airport and will end in the different hotels of EQUIFASE, passing through Cordoba city center. To see the route of each bus, click here. To know the meeting point in the center of the city of Córdoba, click here.

People from the Organizing Committee will be expecting you in front of the Arrivals door of the Airport with an EQUIFASE credential and a sign.
Some of you will have to wait some time at the airport to complete the capacity of the buses. The total time of the trip is around one and a half hour.
---
October 4th
Scientific Programme updated!
Final schedule of Oral Presentations is available now. Further, now is possible to check the Posters Sessions by day: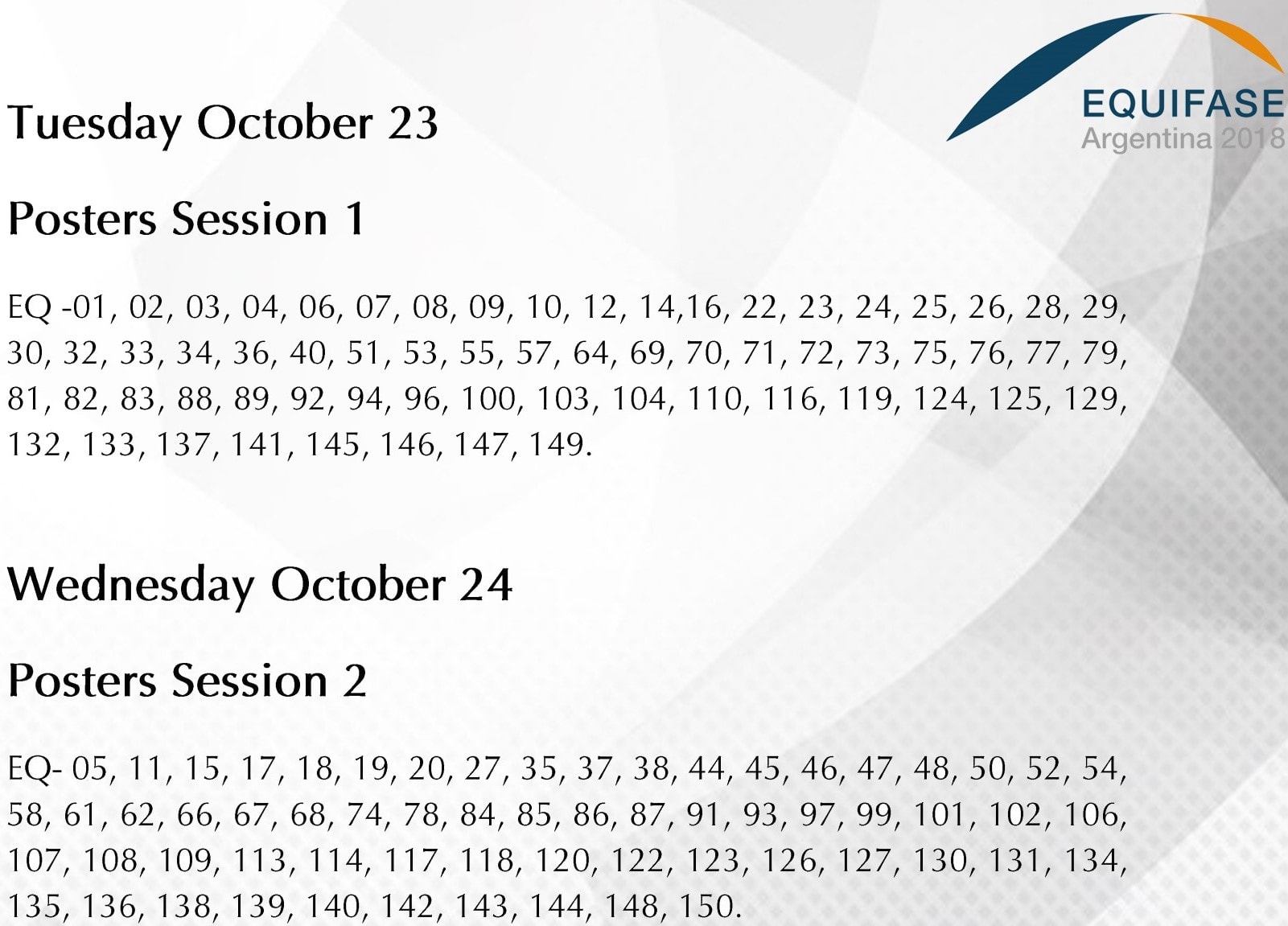 ---
September 25th
Accompanying Persons
The organizing committee of EQUIFASE 2018 informs that those participants who come with accompanying persons, have a special fee for them. To see what is included and how to register, click here.
---
September 18th
Presentation Guidelines
Presentation guidelines for both posters and oral sessions are now available.
---
September 10th
Late Abstract Submission
No further submissions are allowed for EQUIFASE 2018.
---
August 27th
«How to get to…» available!
Click here to download a guide with instructions to geto to EQUIFASE in case that you need to arrive by yourself.
Information about transportation for participants arriving on October 22nd, which is included with EQUIFASE fee, will be available a few days before the congress.
---
August 24th
Oral Presentations Schedule available now!
Click here or visit the Scientific Programme menu to download the schedule. In a few days we will be communicating the presentation guidelines, both oral works and posters.
If your accepted abstract is not included in the Oral Presentations list, be aware that it is intended to be presented as a poster. The list of posters for each session will be informed by the end of September.
---
August 14th
Late Abstract Submission Deadline
Late submissions (only for poster and one per registration) are now welcome until August 31st. This will be the last call available to participate with a work in EQUIFASE 2018.
---
August 02nd
Esteban Brignole Award
On behalf of the Organizing Committee of EQUIFASE 2018 is a pleasure to inform that the winner of the Esteban Brignole Award is: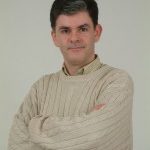 Prof. João Manuel Costa de Araújo Pereira Coutinho
University of Aveiro, Chemistry Department, Portugal
As the winner of the award, he will be the guest speaker commissioned to deliver the Esteban Brignole Lecture.
---
August 01st
Schedule available
Scientific programme schedule available now. Click here to download the schedule in pdf format, or click on the image to open it in expanded jpg format.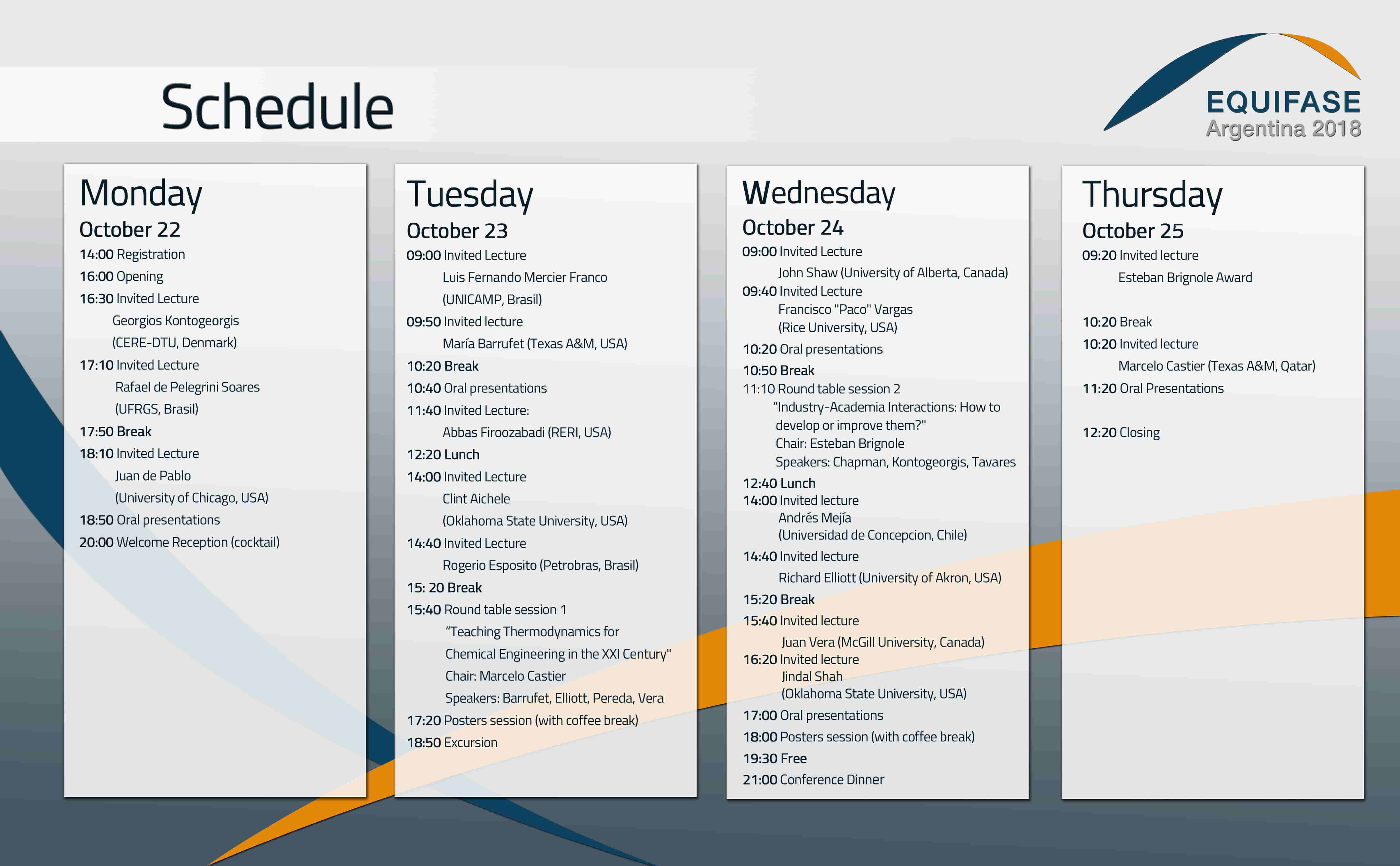 ---
July 30th
Downloadable flyer
To download the official EQUIFASE 2018 flyer, click on the image below.

---
July 27th
Information about accomodation
New hotels available now.
---
July 13rd
Information about accomodation
At the moment Hotel Portal del Lago is fully booked and there are no more rooms available. We are arranging alternative options, that will be informed in the next few days.
---
July 12nd
Information about abstract acceptance
A few abstract acceptance communications are delayed. If this is your case, and have not received a message from us, please wait until we finish the whole process in the coming days.
---
July 5th
Late submissions open!
Late submissions (only for poster and one per registration) are welcome until August 17.
---
July 4th
Payment options and Registration Form online now!
Instructions about the registration process and the payment method are now available.
---
June 21st
Fluid Phase Equilibria Special Issue
Manuscripts based on presentations at the conference that fall within the scope of the journal will be considered for publication in a special issue of Fluid Phase Equilibria.
---
May 14th
No further submissions are allowed to EQUIFASE 2018
Abstracts acceptance and communication to authors will be done by email before July 1st.
---
For abstracts submitted before March 31st, a maximum of two works per each paid registration will be accepted.
---
Making important efforts and thanks to the support from institutions and sponsors, we have established low registration fees for EQUIFASE 2018, expecting high numbers of participation.
---
We are proud to announce part of the Scientific Program of EQUIFASE 2018:
 In the next few days we will inform the final scientific program.
---